Cleo Pahlmeyer's Pinot Passion Project Has Become the Main Attraction
By James Molesworth,
Wine Spectator,
June 14, 2023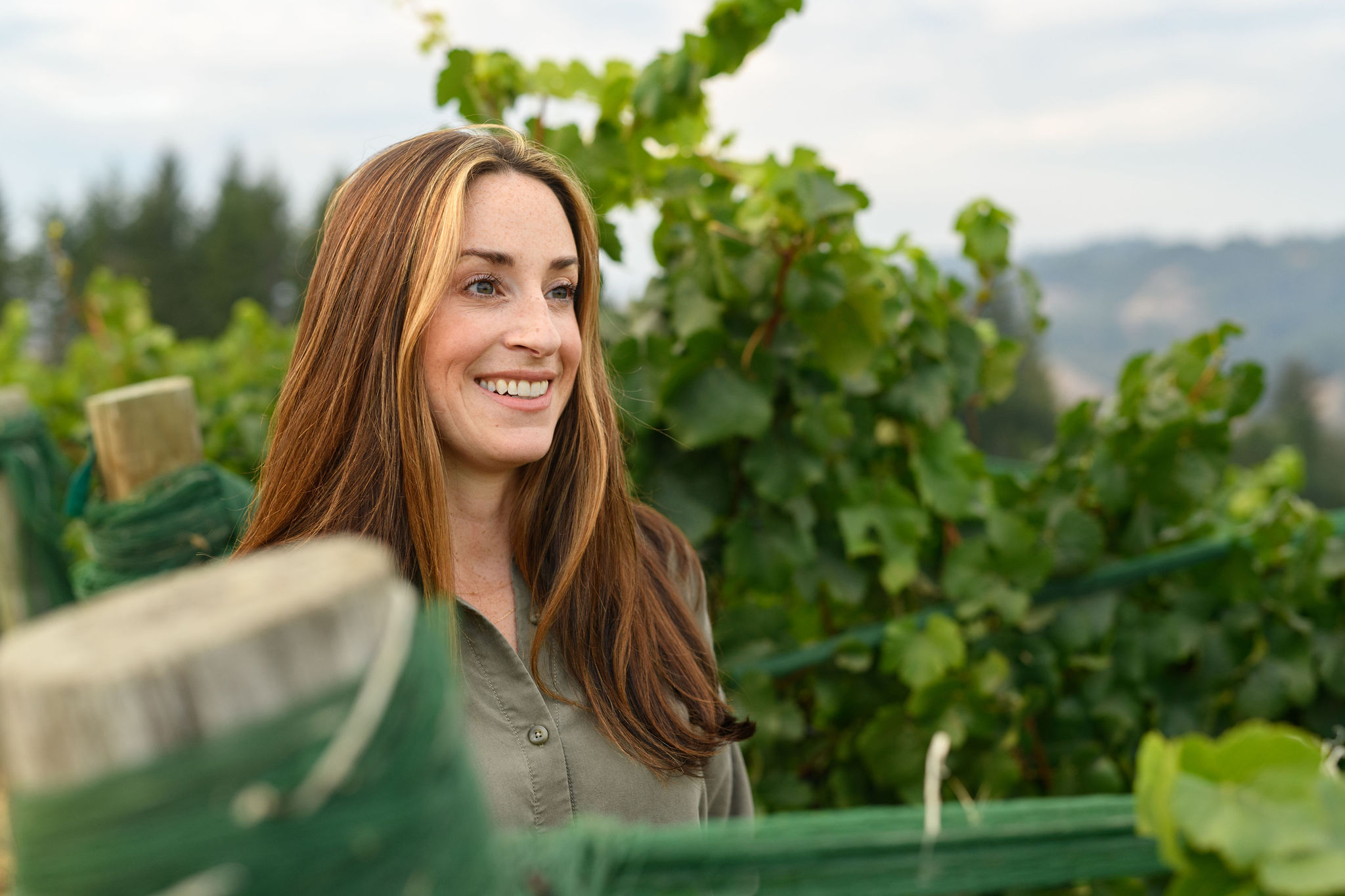 Way out on the Sonoma Coast, an hour's drive north of the tiny coastal town of Jenner, sits Wayfarer Vineyard. Situated on the area's fairly typical Goldridge soils, Wayfarer is home to 21 acres of Pinot Noir vines (along with some Chardonnay and a drop of Syrah). It's neighbored by Nobles and Red Car vineyards, so at first glance, Wayfarer wouldn't seem to be out of place. But it's a bit of an outlier.
For starters, it was planted by David Abreu back in 2002. Abreu is best known for his work with Napa Valley Cabernet Sauvignon (as opposed to coastal Pinot Noir), and Wayfarer owner Cleo Pahlmeyer thinks it's his only Sonoma planting to date.
The vineyard is also at the extreme northern end of the newly drawn West Sonoma Coast AVA, ranging in elevation from 900 to 1,200 feet on the second ridge line in from the coast. Wayfarer is above the fog line, which means it gets plenty of sun, but its proximity to the ocean (just 4 miles away) helps mitigate the afternoon heat.
"The hottest time of day at Wayfarer is 11 to 12, then cool winds start rolling in from the west at noon," says Pahlmeyer. "I consider Wayfarer a warm spot in a cool area because of the interplay between intense sun at elevation and proximity to the Pacific. It's the kind of place where you need a sweater in the shade and a tee in the sun."
And then there's the Pahlmeyer name, long associated with powerhouse Napa Valley Merlot, Cabernet and Chardonnay (again, as opposed to coastal Pinot Noir). In 2019, Pahlmeyer's father, Jayson, sold the eponymous family winery, which he'd founded in 1986, to E. & J. Gallo. That left her to handle the Wayfarer piece, which she'd taken under her wing after joining the family business in 2008.
"I had been working at Williams-Sonoma when I decided I was perhaps interested in the family business. So I started at the company by answering phones," she says. Within a few years she realized wine and grape farming was where she wanted to be, and as she worked her way up, she began to ask more and more questions, including about the property out on the coast.
"At the time, the fruit was just being blended in with Russian River Valley fruit for bottlings under the Pahlmeyer label. But I began to wonder why it wasn't being kept separate. It seemed as if it deserved to be on its own," says Pahlmeyer, whose father is now enjoying retirement in Hawaii.
Pahlmeyer started the Wayfarer label in 2012, creating a distinct new home for that Sonoma Coast fruit. It's been on an ascendant trajectory ever since. After the sale to Gallo, Pahlmeyer made Wayfarer her main focus (along with her family, including three children).
Along the way, she's leaned on winemaker Todd Kohn, 37, who has been making wines from the vineyard since 2013, when he started as assistant winemaker to Bibiana González Rave, who went on to found her own Cattleya project. Kohn became head winemaker in 2017.
Since the vineyard includes 11 different clones of Pinot Noir, covering the major Dijon as well as local heirloom selections, Kohn's experience has played a critical role in the wine's development. The site allows Kohn to draw on a wide palate of fruit characteristics when many other vineyards are typically planted to a narrower range of vine selections. That range of material fuels a small handful of bottlings from the site, including an estate Pinot Noir that blends a bit of everything, plus a few clone-specific bottlings.
The Wayfarer lineup is clearly fruit-driven—another outlier element in a region where the prevailing style is bracing, taut wines driven by primarily savory elements. But Pahlmeyer says that's more about the site than a conscious continuation of the powerfully styled wines made under her family's previous label.
"It's driven by the vineyard. With the slightly lower elevation, it's warmer during the day. It's a warm spot, but we avoid the heat spikes. I do think in terms of structure there's a throughline with other wines from the area, but yes, there is also a fuller expression of fruit," she says.
Kohn says he's seen a slow change in the wines over time, thanks to the maturing vineyard.
"The fruit is always there," says Kohn. "But as the vines have aged, the texture of the wines has changed. There's more richness without heaviness, and there's that mineral edge coming through a bit more now as well. That's why I prefer to move slowly with any winemaking changes, such as the new oak percentage we've dropped a bit in recent years. If you make a drastic change and it doesn't work out, it's hard to suddenly reverse course. But if you let the vineyard dictate the path, then the evolution is more attuned to the vineyard."
"We do get a higher Brix here, for sure," says Pahlmeyer. "But we get that without losing acidity. And that's what is special about the site. And now we're trying to add drive, tension and freshness to the wines. Looking back at some of the earlier vintages, they showed really well at five to eight years of age. But when they hit 10 years, they did start to lose their fruit a bit. We want to get to wines that hit their stride at 10 years."
The 2021 Wayfarer Pinot Noir Fort Ross-Seaview Wayfarer Vineyard Golden Mean combines Pommard and Swan clones to produce a raspberry coulis–filled wine that is perfumed and seductive, with a subtle savory flash at the end.
The 2021 Pinot Noir Fort Ross-Seaview Wayfarer Vineyard Paige's Ridge, the only bottling fermented in oak (the other cuvées are fermented in stainless steel), is entirely Dijon clone 667, and it's fuller, juicier and riper in feel, with intense raspberry and damson plum notes and slightly more emphasis on its savory spine.
The 2021 Pinot Noir Fort Ross-Seaview Wayfarer Vineyard Mother Rock represents a co-ferment of Mt. Eden and Dijon clone 777, and it moves a shade darker, with a mulberry bent and even more of a racy floral and savory spine.
The 2021 Pinot Noir Fort Ross-Seaview Wayfarer Vineyard The Traveler (so named because it's a "suitcase clone" of unknown Burgundian origin) continues the trend. The last of the quartet to be picked, it nonetheless has the highest natural acidity and delivers a slightly higher pitch to its damson and red currant profile, with the most emphasis on its long, sleek, savory- and mineral-edged finish.
All four are distinctive expressions of the differing vine material on the site, but the fullest wine is the 2021 Pinot Noir Fort Ross-Seaview Wayfarer Vineyard The Estate, which shows beautiful range, from damson to mulberry, along with a decidedly sparkly energy throughout and a vivid, mineral-driven finish.
The clonal selection bottlings are made in much smaller volumes, typically just 200 cases or fewer; consequently, those cuvées are higher priced ($125 to $175) than The Estate bottling ($90, 1,600 cases made). And while Pahlmeyer and Kohn note that the market reacts positively to the rarity of the clonal selection bottlings, they feel The Estate is the more complete wine.
"The clonal selections are very specific slices of the vineyard. Since the selection for them is so tiny, they are very consistent from year to year. In contrast, the estate bottling shows the vintage more. It's more variable, because it's a complete picture of the site," says Kohn.
As the vineyard moves into its third decade, the inevitable decision to replant or deal with a slow decrease in volumes (older vines typically produce lower yields over time) is up for discussion.
"There isn't much here I'd change with the snap of a finger," says Kohn. "The vineyard is still healthy. With the tight spacing, we're still getting 3 tons per acre, so lower yields isn't an issue. Frankly, I'd like to get the vineyard to 50 years."
"Really?" asks Pahlmeyer.
"As the vines age, that texture we're seeing, that extra minerality …" Kohn muses. "I think that's part of making wines that will last longer."
Pahmlmeyer smiles. "Well in that case …"
Read the article and watch the video on winespectator.com