Amazing Grace
By Lisa Perrotti-Brown MW,
The Wine Independent,
January 19, 2023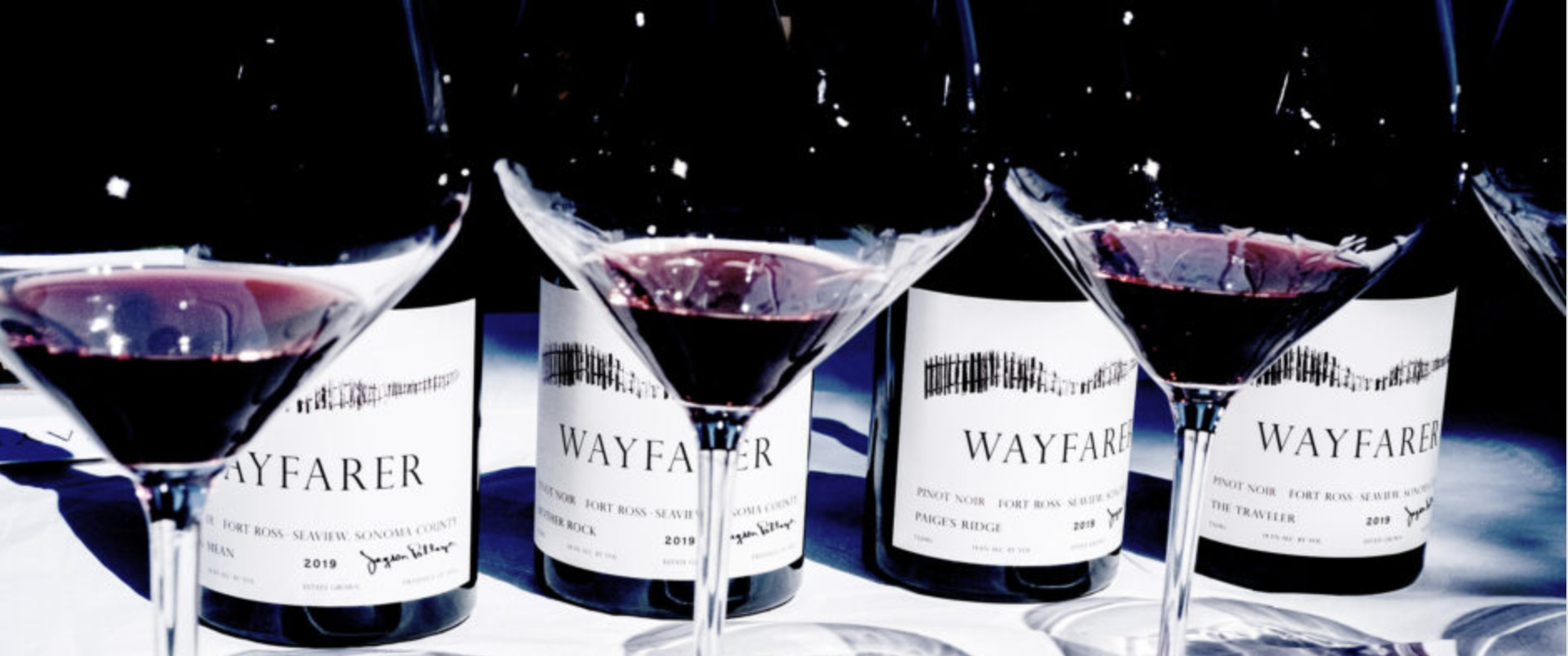 Fort Ross-Seaview was the first breakaway AVA to emerge from the larger Sonoma Coast sub-region in 2011 and for obvious reasons. One look at the area tells you this place is something else. Coming from the oceanside town of Timber Cove, a slow, winding drive down a desolate, redwood-lined mountain road takes you past a few of the pioneering wineries willing to put down stakes here—smack in the middle of nowhere. Wayfarer is one of them.
It was Helen Turley who originally brought the Wayfarer site to the attention of Jayson Pahlmeyer, who then owned Pahlmeyer Estate in Napa. Turley's Marcassin vineyard is located nearby. The Wayfarer Vineyard is situated on King Ridge at an altitude of 1,100 feet in the mountains. Its height and proximity to the ocean have significant cooling influences, which can be felt when you drive up from the warmer Sonoma plains. But don't let the cool air fool you—the aspect of this exposed mountaintop vineyard makes for a cleverly positioned suntrap.
Designed and planted by David Abreu in 2002, Wayfarer Vineyard is exclusively planted with Pinot Noir and Chardonnay. There are 30 acres under vine: 21 acres of Pinot Noir, 8.5 of Chardonnay, and half an acre of Syrah.
Wayfarer Vineyard has twelve Pinot Noir clones and four Chardonnay clones planted, among which there are only five Dijon clones. The rest are local heritage clones except for the mysterious "Wayfarer" Pinot Noir suitcase clone. (Meaning it traveled via suitcase/under-the-radar from Burgundy.)
The property is now managed by Jayson's daughter, Cleo Pahlmeyer. I recently caught up with her at the Wayfarer Vineyard to taste her latest releases.
"2019 was not a cool vintage, but it was cooler than most," said Cleo. "There were no real hot days, and that coolness gives the wines a lot of natural freshness. 2020 was very dry and warm. We were able to pick some fruit at the end of August."
Wayfarer was one of the many wineries around Sonoma that opted not to bottle the 2020 estate Pinot Noirs. However, they released a 2020 Pinot under their recently launched "value driven" label called WF2.
The 2020 estate Chardonnays were far less impacted by smoke taint from the wildfires that year; therefore, it is business as usual for this variety. "We never acidify the Chardonnays; we don't need to. Even in 2020, the pH came in at around 3.3! The wines were aged in about 50% new oak. We went very gentle on the pressings as some of the fruit had a little smoke exposure."
My tasting of the 2020 Chardonnays did not pick up any signs of smoke taint. Given that most Chardonnay nowadays is produced with minimal, if any, skin contact, I haven't yet tasted any smoke-impacted Chardonnays from Sonoma in 2020.
As for 2021, the next vintage to be bottled, Cleo commented, "2021 is between 2018 and 2019. We had plenty of water, so we had normal yields. We're very excited about 2021."
Wayfarer produces a style that dials up the perfume and intensity volume without the added weight and alcohol that sometimes comes with such fully expressed flavor ripeness. These are wines of amazing grace without sacrificing structure and layers – all signatures putting Fort Ross-Seaview on the map for outstanding Chardonnay and Pinot Noir. Well worth the hunt!
Read the article and see photographs by Johan Berglund on thewineindependent.com